Here are the steps to follow for verifying yourself as an author in our platform. You need to have at least one paper on ePrint affiliated with an email address that you currently have access to. The steps will use the following imaginary ePrint paper: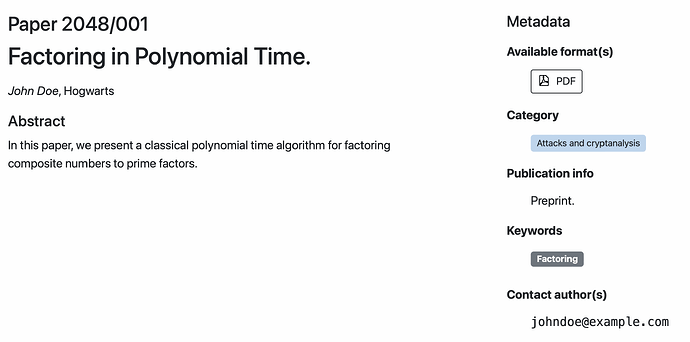 Go to your Preferences → Account. Set your Full Name exactly as it appears on the ePrint website (e.g. John Doe).

On ePrint, the same author's name can be displayed in alternative ways. For instance the author "John Doe" may also be listed as "John Doé" or "J. Doe" on other papers. In order to cover all your papers, you can add these alternative names as a comma separated list on your Preferences → Profile → Alternative Names.

Once you picked your paper, head over to the authorship verification wizard: https://askcryp.to/w/verify-authorship/
Fill up the wizard with the link of the ePrint paper and the affiliated email address of yours as shown above.

Once you submit, you will receive a 6-digit code to the affiliated email address (johndoe@example.com) that you have provided. This may take a while (up to a day).

Once you receive the code, head over to https://askcryp.to/g and click the Request button.

7) Submit the code you have received:
That's it. The verification procedure may take a while to take effect. You will receive a notification email once it is complete.
If you don't have an affiliated email address displayed on the ePrint archive but you have some other way of proving your identity, please contact admin@betterresear.ch including your username on this website. Your application will be considered on a case by case basis manually.